I seldom buy or eat at Shangri-la Plaza. Presently, my money is not enough to purchase some stuff there. In God's time when he increases my income, i will buy all those high priced items on display, hahaha. Although there are still a number of stores and fastfood shops that a middle class Filipino in Metro Manila can afford.
The place is worth a visit!
Here's a brief information and location of Shangri-la Plaza in Mandaluyong, Metro Manila.
Address of Shangri-la Plaza:
Ephifanio Delos Santos Ave. (EDSA) corner Shaw Boulevard, Ortigas Center, Mandaluyong City 1550, Metro Manila, PH
Telephone and Fax number:
Telephones: (632) 633-7851
Facsimile: (632) 633-4474
Map of Shangri-la Plaza (from Ortigas.com):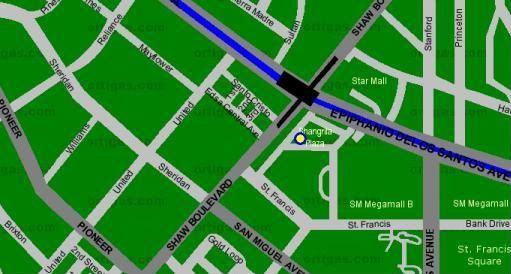 Website of Shangri-la Plaza:
http://www.shangrila-plaza.com/